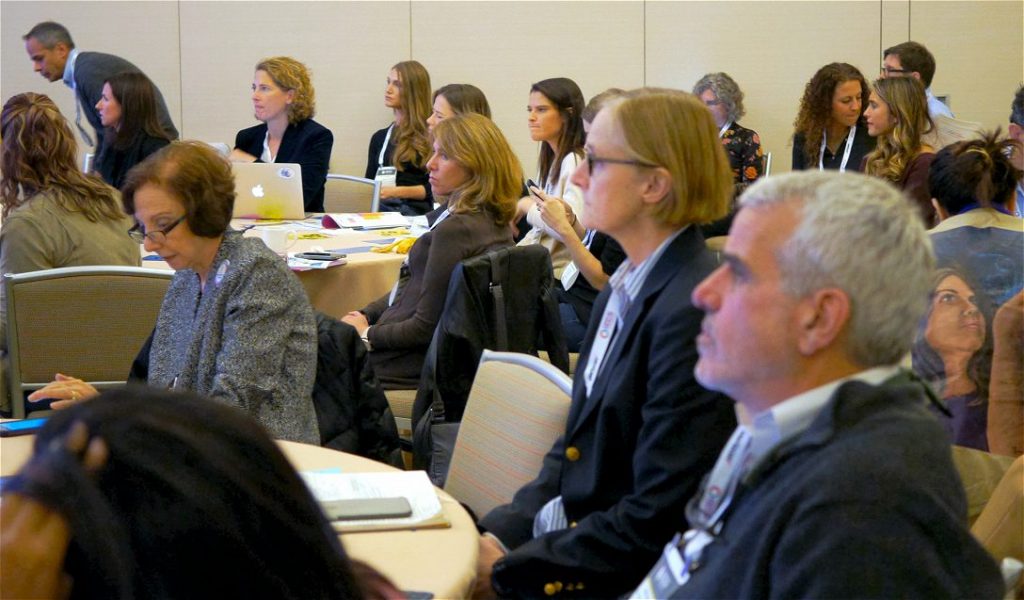 Time 4 Change:
Making Participatory Medicine Real
October 15, 2019 • Seaport World Trade Center, Boston
7:30 am – 5:00 pm with reception to follow
Cost: $100 members/$175 non-members
2019 Conference Speakers
Join us and the following conference speakers at the 3rd annual Society for Participatory Medicine (SPM) conference, co-located with the Connected Health Conference at the Seaport World Trade Center in Boston. Register today!
Katherine Leon
Katherine Leon is an advocate for survivors of Spontaneous Coronary Artery Dissection (SCAD), a cause of heart attack and sudden cardiac arrest. A SCAD and double bypass survivor herself, Katherine used social media to help launch the first single center registry and biobank of SCAD research in the U.S. at Mayo Clinic in 2011. She is co-founder and board chair of SCAD Alliance, creator and sponsor of the multi-center iSCAD Registry, as well as a source of support for SCAD survivors and caregivers around the world.
Katherine earned a Bachelor of Science in English from the University of Virginia and a Master of Science in Integrated Marketing Communications from Northwestern University. She serves on the National Center for Health Research's Advisory Board for its PCORI-funded project to improve the dissemination of important patient-centered research results (2019-2020).
Debra A. Shute
Debra A. Shute is an award-winning journalist who has been writing about healthcare since 2003. She has held editorial positions with HCPro, HealthLeaders Media, and FierceMarkets. Debra has since built a successful freelance career writing for clients including the Massachusetts Medical Society, Medscape, Press Ganey, Medical Economics, and others. With experience writing about topics ranging from health information technology to malpractice risk, Debra is especially interested in patient engagement, physician wellness, and precision medicine.
Debra lives in Worcester, MA, with her husband, two children, and two energetic English setters. Her favorite time to write is in the early morning while all of these living companions are
asleep.
Michael Romano
Michael Romano has been teaching biology, chemistry and marine biology at Acton-Boxborough Regional High School for 13 years. He is a 2019 Massachusetts state finalist for the Presidential Award for Excellence in Mathematics and Science Teaching and a former Albert Einstein Distinguished Educator Fellow at NASA Headquarters and Goddard Space Flight Center. Michael holds a BA in Biology and a BS in Science Education from Boston University, and an Ed.M. from the Harvard Graduate School of Education. He is the recipient of a kidney from Genevieve Hammond, which he received in October 2018 while being treated for polycystic kidney disease. His remarks were crafted as part of the Health Story Collaborative, in collaboration with Annie Brewster, MD and Jonathan Adler, PhD.
Jamie Heywood
An MIT-trained mechanical engineer, Jamie entered the field of translational medicine when his 29 year-old brother, Stephen, was diagnosed with ALS/Lou Gehrig's Disease. Described by CNNMoney as one of the 15 companies that will change the world, Jamie co-founded PatientsLikeMe to ensure patient outcomes become the primary driver of the medical care and discovery process.
Since its inception in 2004 as an online community for ALS patients, PatientsLikeMe has evolved into the leading platform for self-reported data from patients, with over 700,000 users tracking more than 2,000 conditions, and creating over 43 million data points about disease. Co-founded with Jamie's younger brother, Ben, PatientsLikeMe users give their 'data for good', allowing current and future researchers to better understand the path and progress towards prevention and treatment of disease. These patients also interact with each other on the platform, sharing what treatments have worked most effectively for them and serving as a support system to others with similar diseases. Recently partnered with UnitedHealth Group's Research & Development division, PatientsLikeMe is focused on using this new opportunity to continue to change the nature of health care.
Jamie is also the founder and past CEO of the ALS Therapy Development Institute (ALS TDI), the world's first non-profit biotechnology company. During his tenure at ALS TDI, Jamie helped pioneer an open research model and industrialized therapeutic validation process that made ALS TDI the world's largest and most comprehensive ALS research program. Jamie has founded or co-founded three other healthcare companies: AOBiome, Genetic Networks, and TheSocialMedwork, and is an active member of a community of innovators working to bring dramatic improvements to the way we discover, develop and deliver effective health. Jamie and his brother were the subject of Pulitzer Prize-winning author Jonathan Weiner's biography His Brother's Keeper and the documentary So Much So Fast.
Pamela Katz Ressler
Pamela Katz Ressler, RN, MS, HNB-BC is the founder of Stress Resources in Concord, Massachusetts, a firm specializing in building resilience for individuals and organizations through tools of connection, communication and compassion. Pam is a frequent, sought after speaker to local, national and international audiences on strategies of resilience. She is an Adjunct Clinical Assistant Professor at Tufts University School of Medicine in the Pain Research, Education and Policy Program, served on the Executive Board for Medicine X at Stanford University and is an appointed member of the Consumer Health Advisory Board of the Massachusetts Health Quality Partners. Pam is honored to have been selected as a Mayday Pain and Society Fellow for 2019-2020.
A graduate of the University of Michigan and Tufts University School of Medicine's Pain Research Education and Policy Program, Ms. Ressler's work in resilience is grounded in both the science and the art of health and human connection. She has received additional training at both Harvard University and the Center for Mindfulness in Medicine, Health Care and Society at the University of Massachusetts Medical School.
Pam is a featured contributor to WBUR's Cognoscenti pages, an author with various print and online journals, and has been interviewed extensively on her research on resiliency and social media in healthcare. Her academic research on the intersection of social media and healthcare has earned her the distinction as one of the country's thought leaders in the field. Pam was recently selected as one of 30 collaborators from the US and UK by the Robert Wood Johnson Foundation and the Business Innovation Factory to design The Narrative Playbook: The Strategic Use of Story to Improve Care, Healing and Health (2015)
Pam's consulting work with businesses, schools, and healthcare organizations is ongoing and expanding as leaders seek strategies of sustainable resilience in our fast paced society.
Buitron de la Vega
I am a primary care provided trained in internal medicine and preventive medicine with a longstanding interest in patients' attitudes and beliefs about health, health care, and their health-related social needs (HRSN). I provide clinical care to a majority Hispanic patient population, an underserved minority in healthcare. I am also the Associate Program Director of the Boston University School of Medicine (BUSM) Preventative Medicine Residency and an Assistant Professor of Medicine. I am the clinical lead for THRIVE, a clinical strategy that systematically screens for HRSN in all patients that present to primary care and refers them to resources when requested, at Boston Medical Center. In this role, I am also leading the evaluation of the effects of systematic screening and referral of patients to address their HRSN.
Lisa Fiztpatrick
Dr. Lisa Fitzpatrick is an infectious diseases physician and CDC-trained medical epidemiologist. Her career has spanned research, clinical medicine, global health, community health education and patient advocacy. Most recently she served as the medical director for Washington DC's Medicaid program.
Dr. Fitzpatrick is a professorial lecturer for the George Washington University Milken Institute School of Public Health and an adjunct clinical professor at the George Washington University School of Medicine. She is an Aspen Institute Health Innovator fellow and member of the Aspen Institute Global Leadership Network.
She has a Masters in Public Health from the University of California-Berkeley School of Public Health and Masters in Public Administration from the Harvard Kennedy School of Government.
In addition to public health and infectious diseases, Dr. Fitzpatrick's areas of professional interest include health literacy, patient engagement and health innovation for underserved communities, specifically digital health solutions.
Janice Tufte
Janice Tufte is from Seattle WA, has lived in WS, CA, MN, NM, VT and understands complexities of rural, suburban to urban life, challenges and pluses and how these dynamics to health and healthcare intersect. Janice has initiated six local projects that focus on areas that are contained within the social determinants of health definition, offering resource information and promote awareness through community-based participation.
Janice, a PCORI Ambassador, Patient Parttner, has participated in multiple health systems improvement research projects, serves as a national advisor with respected organizations, presents, co-authored published papers, and has been very involved in quality measurement and guidelines and promotes the importance of including the Public Patient Voice in all above.
Keona J. Wynne
Keona J. Wynne has a Master of bioethics from Harvard University, and is currently a graduate student at Harvard T.H. Chan School of Public Health in Population Health Sciences. This interdisciplinary degree combines the subfields of Environmental Health, Nutrition, Epidemiology, Social and Behavioral Sciences, and Global Health and Population. Keona plans to integrate this expertise with her knowledge of bioethics to study and understand moral factors that prevent populations from being healthy.
Keona is a Senior Equity, Diversity, and Inclusion Fellow at Harvard T.H.Chan School of Public Health. In this position, she works to create and maintain an inclusive environment for students from varying cultural, ethnic, religious backgrounds and sexual and gender minorities. Previously, Keona was the Chapter President of the Comprehensive Medical Mentoring Program (CMMP). In this role, Keona founded an umbrella program, the CMMP Clinical Research Internship (CRI), where high-achieving minority undergraduate students were paired with clinician-researchers in the D.C. area with the long-term goal of diversifying the medical profession.
In her spare time, Keona actively practices yoga, reads, and writes creatively.
Genevieve Hammond
Genevieve Hammond began her career as an educator at Boston Latin School in 2001, where she taught English for a year. She then moved to Acton-Boxborough Regional High School, where she has taught English and career exploration and life skills for 17 years, and where she now manages a senior internship program. Previous to teaching, Genevieve spent 13 years working at MIT, primarily as a personnel administrator in the Alumni/ae Association. Way back when, she spent two years as a secretary in the Cardiovascular Division of the Brigham and Women's Hospital. Genevieve holds a BA in English from Colby College in Waterville, Maine, and an MAT from Simmons College in Boston. Her first ever hospital stay came in October 2018, when she spent two nights at the Massachusetts General Hospital after donating her left kidney. Her remarks were crafted as part of the Health Story Collaborative, in collaboration with Annie Brewster, MD and Jonathan Adler, PhD.
Danny Sands
Dr. Danny Sands is passionate about healthcare transformation. A practicing physician with training and experience in clinical informatics, Dr. Sands has worked in a variety of capacities in the healthcare IT industry for over 25 years. He spent almost 14 years doing clinical informatics at Beth Israel Deaconess Medical Center, where he developed and implemented innovative systems to improve clinical care delivery and patient engagement, including clinical decision support systems, an EHR, and one of the nation's first patient portals. This was followed by leadership positions including Cisco, Zix Corporation, and others.
Dr. Sands is the recipient of numerous healthcare honors, including recognition in 2009 by HealthLeaders Magazine as one of "20 People Who Make Healthcare Better." He is the co-author, with e-Patient Dave deBronkart, of Let Patients Help.
Dr. Sands has earned degrees from Brown University, Ohio State University, Harvard School of Public Health, and trained at Boston City Hospital and Boston's Beth Israel Hospital.
Dr. Sands holds an academic appointment at Harvard Medical School and maintains a primary care practice at Beth Israel Deaconess Medical Center in which he makes extensive use of health IT—much of which he helped to introduce. In addition to practicing, Dr. Sands works with a number of innovative companies and is a co-founder and board chair of the Society for Participatory Medicine. He is a popular speaker and consultant, who blogs at DrDannySands.com and is active on Twitter as @DrDannySands.
Danny van Leeuwen
Person (with MS), caregiver, nurse, informaticist, leader. Podcaster, storyteller, technical expert, user tester, capacity builder, speaker. A Rosetta Stone of healthcare. Learn on the journey toward best health to make health choices and decisions, communicate health information, support each other, and share what works.