Prolog: Cheryl said she wasn't sure whether this post belonged on the e-patient blog. It sure does: When lives are prolonged by medical success, we get to do all kinds of things we wouldn't have.
It also belongs here because this short little piece contains a terrific and empowering "mind pop" at the end. Enjoy. – e-Patient Dave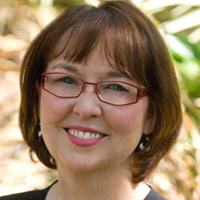 My father had two things on his Bucket List — he wanted to own a Cadillac and to go to Hawaii. In his early 70s he proudly bought a Cadillac. I asked him when he was going to Hawaii and he said, "Later." He died at 73 never having seen the sun rise over the beaches of the islands only a five-hour plane ride from his home. I've often thought that he was afraid to go to Hawaii. Afraid that if he emptied his list he wouldn't have anything to look forward to or even worse, he wouldn't have anything to live for.
In 1996, when I was given a few months to live, I didn't have to think about my Bucket List. At the time I was nursing my nine-month old baby. I knew I wanted to live to see him start school, learn to ride a bike, be in a play with him, see him graduate, sit in the front row at his wedding, and meet my grand kids. That list gave me lots of things to look forward to. It was one of the things that kept me alive.
In 2009 I lived long enough to witness "my baby" graduate from the 8th grade. As he walked across the stage to receive his diploma I mentally crossed one more thing off my Bucket List — one less thing to accomplish before I died. I felt proud, grateful, … and old.
As a soon-to-be-empty-nester, I've been thinking a lot about what my life will be like without kids around every day. Undoubtedly it will change, but I don't want to just cross off the things I've been looking forward to for years and slowly run out of things to live for.
I've decided that this New Years I'm officially trashing my Bucket List. And in its place I'm creating a Bucket Queue. I'm going to stop trying to get it all done before I die and I'm going to start adding something new to the queue every time I've completed something.
Out with the old. In with the new. And keep 'em coming!
Author's note: Check out http://www.43things.com to create and update your own personal Bucket Queue.