Participatory Medicine is a movement in which patients and health
professionals actively collaborate and encourage one another as
full partners in healthcare
Aging populations, innovation and technology are changing business as usual in healthcare.
High patient expectations
Technology enabled care
Focus on quality and costs
Big data use at point of care
The Society of Participatory Medicine thinks differently about solutions. We think medicine is best practiced as a collaboration between Patients/Family/Caregivers and Clinicians.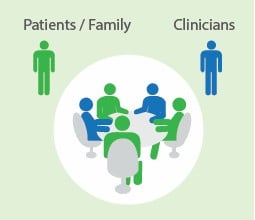 Technology Picks up the Pace of Change
Technology is rapidly accelerating our ability to connect with each other, to share, to amplify the
voice of the patient, to collaborate. Just one of the many reasons it is so important to get involved now.

How Does Participatory Medicine Help?
There are three criteria that any initiative for positive change in healthcare will be assessed against. There is a body of emerging evidence that Participatory Medicine delivers on all three.


Improved Health Outcomes
Shared decision making by patients and healthcare professionals lead them to make better health and healthcare decisions. And healthcare professionals who practice par-ticipatory medicine are able to better tailor care to their situation.


Greater Satisfaction
Patients feel respected and in control when the healthcare process is transparent, informative, reasonably convenient and collaborative. A great benefit of Participatory Medicine is that healthcare professionals feel more satisfaction as well!


Lower Costs
Existing and emerging studies show the link between patient engagement and better health outcomes leading to lower costs. Engaged patients have lower hospital read-mission rate and are more aware of the value of preventative care and early detection.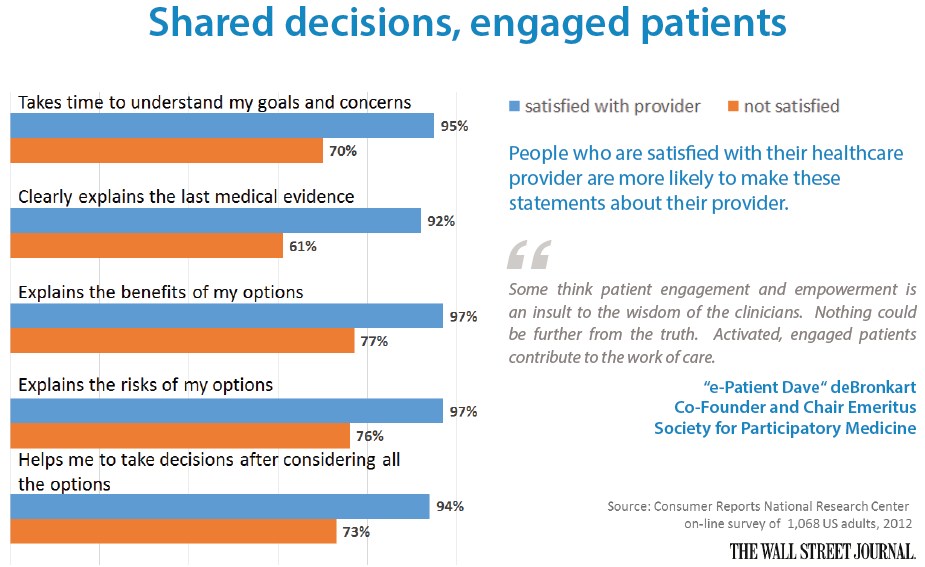 Be Part of the Change!
The Society for Participatory Medicine provides a collaborative environment for everyone involved in a person's healthcare to learn more, advocate for change, and become more informed about the benefits of participatory medicine.
Community & conversations
Patients, caregivers, advocates, doctors, nurses, policy makers and healthcare professionals engage in active discussions in our online community
Advocacy
SPM public policy committees work to inspire and influence public policy
Research
Our peer-reviewed Journal of Participatory Medicine publishes the latest research
Education
Webinars, online courses, presentations and workshops developed for both healthcare professionals and patients
Join us and be a change maker!
Join the growing list of partners and supporters who have already signed up to help us transform the culture of patient care.
Organizations & Companies:
Choose from a variety of programs to sponsor. Apply what you learn where it matters most for you — with patients, employees, healthcare professionals, caregivers and others.
Individuals:
Join the community and add to the conversation. Learn from and be inspired by your peers and others working to make
healthcare better.