At Health Datapalooza today in Washington, DC, the Society for Participatory Medicine announced the live beta launch of our Seal Program. The SPM Seal will be awarded to clinicians and to patients who make four simple, achievable, but powerful participatory commitments. Clinicians also agree to allow patients to verify that they are keeping those commitments. Their seal will not go live unless they have been nominated or verified by at least one patient.
This gives us a growing, searchable database which people and services can use to identify participatory providers and patients. Beyond this, the commitments teach core participatory principles as well as raise the bar. Each of the four commitments expands participation and has power to instigate change.
Clinicians are also encouraged to take the Participatory Patient pledge for themselves.
Meanwhile, we'll be collecting individual stories of participation to display on the Seal website.
The SPM Seal dovetails nicely with the ONC and their pledge program for organizations, with our live beta announcement occurring in their consumer session at HDI.
Come to seal.participatorymedicine.org to nominate clinicians, to take the participatory provider and/or patient pledge, to search for those who have, to validate clinicians, or to submit participatory stories.
This fall, after we've had a chance to learn from the beta, we'll roll out the Society for Participatory Medicine Seal Program in a big way. Participatory Medicine is Better Medicine, and it's time to put in on the map.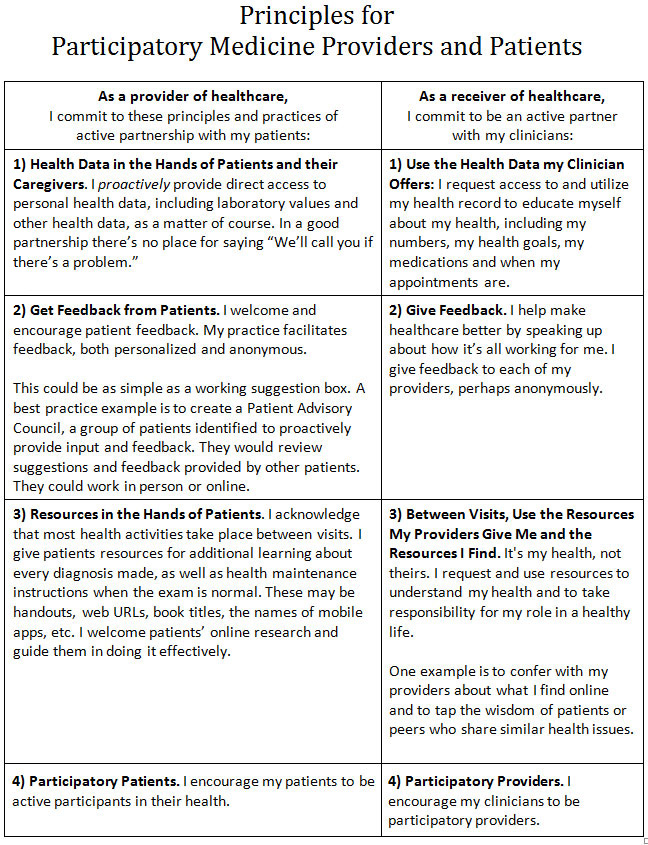 Special thanks to Indu Subaiya, Elise Singer, Alan Viars, Fred Trotter, Carole Peckham, John Grohol, Richard Sachs, Cheryl Greene, and Deb Linton, who have all worked on this project directly, as well as to the Society's Exec Team that wrestled with issues surrounding the Seal at many Exec meetings, and to the many others who have given input along the way.