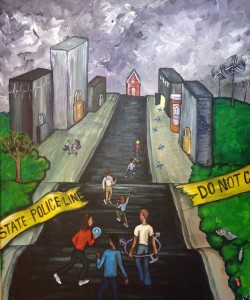 With the tireless help of Adrian Gropper, and the counsel of executive committee members Michael Millenson and Danny Sands who went above and beyond, and our President Sarah Krüg, the Society for Participatory Medicine's Public Policy Committee completed a last-minute blitz and submitted comments in response to the Office of the National Coordinator for Health Information Technology (ONC) request for Information (RFI) on advancing interoperability of electronic health records and health information exchanges (HIE) through sub-regulatory policy change. I want to acknowledge the contributions of Keith Boone and Fred Trotter as well. Keith, Fred and I had the opportunity to discuss these issues and others in person last weekend in Boston at an unconference (see blog posts by Keith, Ted Eytan and me). As we discussed these issues, Regina Holliday  painted "The Open Door,"  included at the head of this post.
Please take a look at the SPM comment letter on the ONC RFI to Advance Interoperability and HIE. You can learn more about the ONC RFI, and there is an embedded video of Farzad Mostashari, National Coordinator of Health IT speaking about the RFI at HIMSS at that link as well.
Specifically, we proposed:
• Promote Blue Button Plus as a means to empower patients to a degree that current systems do not allow.
• Leverage existing regulatory requirements by building meaningful use of EHRs and HIE into the lexicon of the health care facility surveyor; a Meaningful User should be cited with a deficiency if proper meaningful use would have eliminated the root cause of the deficiency.
• Advance provider directories to support HIE by using the attestation process to link a provider's Direct address with other contact information in the National Plan and Provider Enumeration System (NPPES, NPI system).
• Increase patient access and use of EHR information by developing patient education programs as well as improving usability of the patient interface.
• Increase standards-based electronic exchange of lab results through a minor regulatory tweak.
The letter is addressed both to ONC and to CMS, in response to their joint request for information. This collaboration within HHS is encouraging, and it may well point to greater interest in leveraging EHRs within CMS.
David Harlow is a health care lawyer and consultant at The Harlow Group LLC, and chairs the Society for Participatory Medicine's public policy committee.  You should follow him on Twitter: @healthblawg.