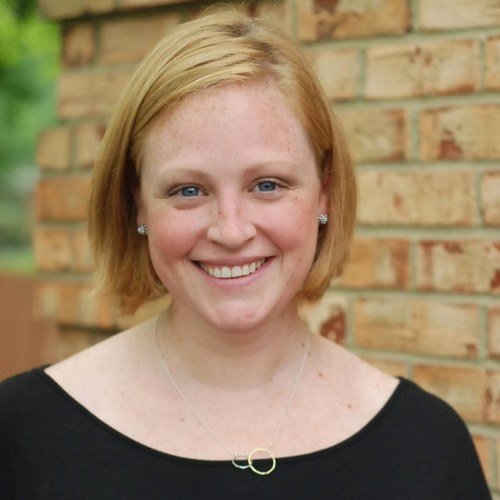 SPM member Erin Moore (@EKeeleyMoore) is one heck of an activist parent. She sees the future, she has a stake in it – a kid with a chronic disease – and like many of us, she's not waiting around for someone else to make it happen: she's engaged in creating the future that her son needs.
Her son has cystic fibrosis, which to little kids sounds like "65 roses." Her blog is named for what follows logically – the next thing after CF, the next thing after 65: 66 Roses. This post originally appeared there in April; it's the text of a speech she gave to the leadership of the Cystic Fibrosis Foundation. I've taken the liberty of adding emphasis and section breaks, to imitate a speaker's style.
See updated news at the end! — e-Patient Dave
_______
My name is Erin Moore and I have a 3yr old son who has Cystic Fibrosis. This morning, I wanted to share with you a story about why I think that creating a Collaborative Chronic Care network for Cystic Fibrosis would be hugely beneficial to our community. [See our earlier posts about the highly participatory "C3N Project."]
I arrive for our clinic appointment around 7:45am. The last time we were here was 3 months ago. Usually, we are ushered back to a room within 15 minutes of arrival. A nurse greets us shortly thereafter to review our medicine list and address any issues that we've been having. Just the other day he was coughing up a storm but seems to have gotten over it. Should I talk to the dietician about his diet again? His weight is up and his stool seem "normal" but I'm always anxious about his lack of interest in food. I wonder if an RT [respiratory therapist] is available to talk a little bit about his airway clearance. I don't want to be a bother but I sure do think the airway clearance he had in the hospital this summer was more effective. I wish I knew what they were doing differently!
Next up is the doctor. She asks how things have been going. Today? Great! Last week? I was a little worried, but the cough he had seemed to go away. There was that one day that his stool was a little weird but that got better too, I'm not sure what caused it. And frankly I can't remember back farther than that. She checks him out and wants to review his labs since we are at his anniversary visit. His vitamin D is low, his breathing still sounds a little noisy, and a note that she has from his ENT seems to indicate that he may need another sinus surgery.
She feels out whether I'd be open to a bronchoscopy at the same time. Maybe another CT is a better option. When I talked to the ENT last month it sounded like things were going well? I guess I don't mind if they do a bronchoscopy while he's under for something else, but I remember huge discussion with other CF parents on Facebook about CT scans and all the negative effects of radiation and I don't know that I want to do that? I wish I could find that conversation!
I ask questions about a game plan for if he needs IV antibiotics if we grow pseudomonas again, having read online about all different methods used for eradication but not knowing which is best and why. It's hypothetical at the moment because they haven't even swabbed him yet. I just have sort of a busy life and sometimes having a plan provides a sense of comfort for me.
She suggests an action plan and I am mostly on board, except for the azithromycin because I saw a presentation somewhere that seemed to show compelling evidence against its use. I wish I could find that presentation to show her! I trust his doctor and want to follow her recommendations, but I have some reservations. I don't think either of us has time to get into this as I've already taken up more than my fair share of appointment time. We agree to wait for the results of the culture to decide a course of action.
Next up is the dietician. Lucky for me, he has a "weird poop" while we are there so she can look at it and provide her thoughts. This isn't what all of his stool looks like. I don't really know how often his stool looks like this – sometimes once a day, sometimes 4 times a day, sometimes once a week. We talk for a bit about enzyme dosing and the calories he's taking in, her offering suggestions for beefing up his intake and me adding them to the "notes" section in my iPhone, hoping I can get them down elsewhere before one of my kids deletes them by accident.
The social worker pops in to address some questions about starting preschool that I had mentioned to the nurse 2 hours ago. I had met with the Psychologist about a year ago to talk about his lack of interest in food, but never followed up, mostly because of both time constraints and cost. If only she could pop in and give me a couple of quick suggestions. But I have to go, we've already been here for almost 4 hours. While waiting for my discharge paperwork, a research assistant shows up to see if I'd be interested in participating in a study about I'm not sure what because my 3yr old is clambering to get out of that office. I agree anyway, get my discharge paperwork and fly out the door.
______________
This summer, we were visiting family in Philadelphia and my son got sick. He was admitted to Children's Hospital of Philadelphia [CHOP] for a pulmonary exacerbation. Not a single morsel of information about him and his history with Cystic Fibrosis was available to the doctors at CHOP. Many phone calls were made between fellows from my personal cell phone to understand his medical history and doctors asked me the same questions day after day before we trusted and understood each other and hashed out what was going on in the days leading to our admission. I know that it was in Drew's best interest that we discuss everything about him ad nauseum, but it blew my mind that in this age of technology, there was no electronic medical health record that the doctors in Philadelphia could access to understand Drew to provide the best care for him quickly.
When Drew was a baby, we kept a diary of his formula intake and the corresponding output. We set up a nice little Excel chart and shared that with our dietician on a very regular basis. I credit that chart for his gained weight and reaching the 50th percentile by the time he was 6 months old and he has been able to maintain that to today when he is almost 3. I know that all patients aren't equal, but wouldn't it be great if that data, if our "patient reported outcomes" were cataloged somewhere so that we could share what we did and how it worked for us?
Sure, I could take to the CF Moms Facebook page and ask about what high calorie snacks work for their 3 year olds and hope that some of those moms are online and eager to provide some feedback. But once that question is asked and answered, it just simply vanishes into cyberspace. I cannot tell you how many times I've said, "I know I've seen that somewhere." Imagine the power of cataloging that data, those conversations, those findings. It can be used by patients, by doctors, by researchers and teachers. Just thinking about the power of that is what is driving me to stay involved and insist on nothing less.
Right now, much focus seems to be trying and often trying again to fix things that aren't working right – adherence reminders, transition projects, finding ways to ensure that patients don't feel isolated in this disease.
Perhaps rather than just trying to change something that isn't working, we need to change the way we think about it and try something new.
_______________________
The C3N for CF is a novel approach to healthcare. It changes the traditional doctor-patient relationship.
The clinical staff are where they are because they chose to be. Patients don't choose their disease. It is something that happens to them and something that they have little control over. Patients want access to and control of their information because they want to be engaged and empowered regarding their care. Doctors should support this.
In order to overcome the current barriers, we need to identify the current barriers. In my opinion, clinicians seem puzzled as to why patients don't seem to want to engage in their own care and improving outcomes, but how many of you would be agreeable to regularly and reliably engaging in something that you don't like having, don't like doing, and don't want to spend any more time on than you already have to? We can't just assume that if we build it, they will come. We have to understand and engage patients as active participants in their disease management in a way that alleviates the burden already weighing heavily on them. I believe that the proposed interventions for the C3N for CF will do just that.
I've rewritten my story to reflect how I see the C3N changing things for the CF community. This may perhaps be an aspirational vision, but I don't think its unreasonable to expect to see these interventions causing a shift in the way people both think about and manage their disease.
The same episodes, re-imagined with C3N
It's been 3 months since our last check in with the clinic. We've been tracking our data for the past 6 months and are interested to hear what, if any, trends they are seeing.
Last week we got a summary of our data to review before our visit that helps us to identify any ongoing concerns that I've had since we were last seen. Our doctor has already reviewed this and is recommending that we meet with our RT to discuss alternative airway clearance techniques because she has seen that we have been checking that out on our message boards. Since she brought that up, I do agree that it could be useful to hear about some of our other options even though I haven't really thought about much about it since our last clinic visit.
I also notice that Drew's interest in eating has declined considerably over the past 2 weeks. I let them know that I'd like to talk with the dietician to figure out what's going on.
Drew's vitals (PFTs, O2, heart rate, blood pressure, etc), that we record with apps recommended by our clinic, have remained steady since our last visit. After returning our pre-clinic survey, our doctors review us along with the other patients scheduled to be seen during the upcoming week. We are given a green light by the clinical team and we decide together that we don't need to go into clinic for our appointment. I'm relieved because I would hate to pick something up when we're doing so well, and I wasn't sure if I was even going to be able to make it since my husband will be out of town for work and I haven't been able to find a babysitter.
During our appointment time, we meet via web conference. At the beginning of the call, the clinicians see that I have updated our medication list just prior to the appointment so we can skip that. They've also seen that we've been taking our prescribed medications pretty reliably and commend us for following the doctor's orders.
We look together at his behavioral data that we have been tracking and they point out that something is going on on Tuesdays and Thursdays. Per behavioral patterns and some survey responses from those days, he seems to have headaches and just doesn't feel great. After a few moments of conversation about what could be going on, we are able to identify that those are the days that he is in school and may not be getting as much to drink as he needs. We agree to try to keep him better hydrated at school and will continue to look at what happens.
The dietician and I talk for a few moments about his eating behaviors and she suggests that it may not be an appetite issue but rather a control issue. This is apparently common in preschoolers, and she asks the psychologist to hop on the call for a few minutes. The psychologist suggests a few techniques to try at mealtime and we make an appointment to check back in two weeks. Before she jumps off the call, I get a notification of our [just-made] appointment through MyChart, which I can easily add to my calendar. This is SO much easier than trying to talk to appointment scheduling before we leave or remembering to call them once we get home.
Our nurse hops on at the end to wrap up our appointment. She provides a document with some of the most common things parents of 3 year olds are discussing on our message boards. We can already swallow enzymes and don't ever have too much resistance getting him to do his treatments, but I had no idea that lizards and other reptiles carry pseudomonas! I wonder what else I don't know. I should check them out more often! She reminds us to drop our culture off at the lab and asks if we need any medication refills. We agree to continue doing what we're doing and will check back again in 3 months.
This summer, we were visiting family in Pennsylvania and my son got sick. He was admitted to the Children's Hospital there for a pulmonary exacerbation. I gave the doctors there access to his online personal health record, which includes all of the information from the team at our hospital as well as my own notes, behavioral data trends and conversations I've had with my clinicians about survey results and other. The doctors there were used to this because their patients also have this personal health record.
After a phone call to my son's doctor at our hospital, we understood what was going on in the days leading to our admission and had established a plan for treating the exacerbation. It felt good to know that there was an electronic medical health record that doctors everywhere were familiar with and could access to understand my son to provide the best care for him quickly.
It is a relief that Drew hasn't been seen in 3+ months and he is healthy. This new system is allowing me to really keep on top of how Drew is doing in an effortless way. I get insights into his behavior, health tips from a trusted source and I really feel more connected to the clinical team. I feel very in control and things seem to be going very well, so I'm happy to continue down this path if we will continue to see these kinds of results.
I think you're seeing my point, a point that was brought out in almost every session I sat through at the NACFC conference this year.
The information that we currently have on patients in between visits is limited.
Filling those gaps would give us a more complete picture of health.
It would help doctors to intervene at appropriate times, times when patients might not call because in their mind "it's just not that bad yet", but doctors are able to identify a problem or a pattern that lets them know the direction something that's "not that bad" is headed.
They would be able to more easily determine if certain therapies were actually making a difference through the combine use of passive behavioral and active patient reported data, looking at a real-time view of what is going on with a patient, not what they remember to tell you when they are in clinic.
The registry could be enhanced by identifying day to day trends and commonalities in patients sharing mutations.
And all of this data can be used by researchers and scientists to figure out every last detail this disease and find therapies that work for every one of us.
From a parent's perspective, the C3N is what we need to make life easier and improve outcomes while we wait for our cure.
_____________
The outcome:
On Twitter today Erin told me "They bought in and the creation of CF C3N is underway!"