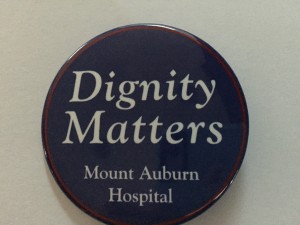 Every patient wants to be treated with dignity.  However, when you are sitting in a doctor's exam room, holding together a hospital gown that somehow does not want to completely fit around you, or close properly, it is difficult to feel that you have any dignity.  When the doctor comes into the room and barely listens to you or looks at you, while he or she is checking your health record on the computer, it also feels as though you do not have much dignity.  When the doctor explains the treatment options for your problem and does not take the time to listen to you analyze your issues, a culture of dignity is missing from this interaction.
Donna Hicks, PhD, an associate at the Weatherhead Center for International Affairs at Harvard University, has worked for over a decade in the field of international conflict resolution and has published a sentinel book called Dignity, It's Essential Role in Resolving Conflict. Although the book is focused on a culture of dignity in the workplace, there are many parallels that are essential to health care organizations and health care professionals who strive to offer quality care.
The ten elements of dignity that Dr. Hicks outlines in her book, so relevant in a health care setting include:
1. Acceptance of every person's individuality and identity.
2. Inclusion – making people feel they belong.
3. Safety – putting people at ease.
4. Acknowledgment -giving people full attention by listening, hearing, validating and responding to their concerns, feelings and experiences.
5. Recognition – validating others for their personal traits and talents.
6. Fairness – Treating people equally.
7. Benefit of the doubt – trusting people.
8. Understanding – believing what others think matters.
9. Independence – Encouraging people to act on their own behalf – empowerment.
10. Accountability – taking responsibility for actions.
There are a plethora of patient stories where doctors ignore the patient's point of view or explanation of what is wrong. There are frequent instances when doctors in the exam room fail to communicate with their patients or even look them in the eye. There are countless times when intentionally or unintentionally healthcare professionals strip away a patient's sense of dignity by patronizing them.
Duncan Cross, a patient who has suffered with Crohns disease for a number of years wrote a blog post that describes his first-time encounter with a new gastroenterologist.  He talks about this physician's attitude.  This blog,  "I Sent This Letter to a Doctor Who Pissed Me Off," was posted on e-patients.net on June 3, and you can read it here.  What Duncan advocates is the essence of what it means for healthcare professionals – doctors, nurses, nurse practitioners, therapists and physician assistants to treat patients with dignity.
So how do physicians and hospitals consciously create a culture that incorporates the ten elements of dignity?  The answer lies in discussing this issue and educating people in the fact that Dignity Matters.
At Mount Auburn Hospital, in Cambridge, MA, the Dignity Matters  campaign was  launched last year.  The goal was to instill in everyone from the Executive Suite to the Environmental Services  department, the importance of dignity. Initiated by the past president of the Mount Auburn Medical Staff,  Dr. Anne d'Avenas, the program was launched with a series of workshops consisting of presentations/discussions, followed by breakout sessions which focused on various scenarios that illustrate lessons learned about treating colleagues, patients, family and visitors with dignity.  Dispensing buttons, posters and flyers throughout all of Mount Auburn's affiliated offices, the Dignity Matters campaign is visible. There is a plan to incorporate Dignity Matters into the Mount Auburn web site as well.
Hospitals and physician practices throughout the country need to emulate this worthwhile program.
In today's stressful world it is difficult to maintain a culture of compassion and respect throughout the health care system. It is even more challenging to improve the patient experience and increase satisfaction by insuring that we are all treated with the dignity each of us is automatically entitled to.