This is a guest blog post by Allie Davanzo. Allie was my student in the New Media and Health Communication class I taught at TCNJ. More about the class is shared in this post.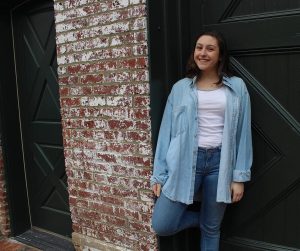 Allie Davanzo is a sophomore Public Health major at The College of New Jersey who hopes to pursue a post graduate degree in occupational therapy. Outside of the classroom, she enjoys doing yoga, baking, and being outside.
Healthcare as we know it
Waiting for referrals from doctors in order to see specialists. Misunderstanding complex insurance policies. Being put on waiting lists for organ donation and for appointments. The endless struggle to see clinicians. Health professionals' use of complicated and vague language. Uncertainty about diagnoses. The lack of transparency. Healthcare as we know it is anything but patient-friendly. While the American health care system has many flaws, we cannot immediately repair these logistical issues. However, we can focus on using art as a way to help patients better understand health care and help them to feel more present in their health care experiences.

Adding a level of humanity
Art is a completely different form of language. Without using words, we convey our feelings, needs, desires, hopes, and worries.Put simply, art is the foundation of the human experience. In the world of health, arts "counter stress and humanize the environment" and "provide positive distractions and lend social support in environments that otherwise may be isolating and frightening" [1]. Art gives patients a sense of community when they are going through challenging times in their lives. Regina Holliday, the founder of The Walking Gallery, has pioneered a new way to use art in order to connect with patients. The painted jackets worn by those in The Walking Gallery allow them to share their stories with others by wearing the jackets. The jackets serve as a platform to help prevent the patients from being defined by their illness or experience and instead empower patients to embrace their identities. The jackets turn traumatic or stressful experiences into positive ones, creating a sense of community among The Walking Gallery members.
Music and patient-centered care
Music is the universal language. We listen to music in the car, in the shower, and on our way to class. We bond over music at concerts and performances. Music forms communities. So, why shouldn't music exist in the health care system? Music has been used as a beneficial tool for patients in treatment. Music has proven to be useful in treating cancer patients and helping children with anxiety [2]. Doctor Zubin Damania, also known as ZDogg MD, has used music to talk about repairing our health care system and about certain illnesses. ZDogg MD aims to restore the deep relationship between patients and doctors and restoring the humanity in healthcare. For example, in one video, ZDogg MD addresses the experience patients go through at the end of life. He adds a genuine element of humanity in discussing a sensitive subject [3]. Music can be a powerful instrument in connecting to patients on a personal level.
Sustainability
Art and music are such powerful tools because they are timeless. Artistic mediums have been integral parts of our lives forever, and they are not going anywhere anytime soon. We can use these tools to repair and support our healthcare system in the years to come. Next time someone is sick, remember they are not defined by a condition or a serial number. Their stories can be powerfully portrayed and understanding can be increased through these art forms.
[1]. Ridenour, Annette. "Creativity and the Arts in Health Care Settings." The JAMA Network. 1998;279(5):399-400. doi:10.1001/jama.279.5.399-JMS0204-3-1.
[2]. "Arts in Healthcare Research." National Endowment for the Arts. Accessed 6 April 2017. https://www.arts.gov/accessibility/accessibility-resources/leadership-initiatives/arts-healthcare/arts-endowment-issues-3.
[3]. Chase, Dave. "Meet the Weird Al of Medicine." Forbes. Accessed 6 April 2017. https://www.forbes.com/sites/davechase/2016/08/09/dr-weird-al-yankovic-is-the-voice-of-the-unbreak-healthcare-movement/#6fc1d3b67130.