After a happy couple has been dating and in a stable relationship for a while, they often decide to take a traditional, next, more permanent step to the institution of marriage. They make an announcement to kick it all off:
"We're engaged!"
When we hear about an engagement in the typical sense, we associate it with and look forward to a momentous event: the wedding. I'm old, so we didn't do this; but nowadays a guest receives a "Save the date" card, which reminds us that our presence is requested, and we should block off our calendars.  Here's an "engagement" tweet from Erin Moore: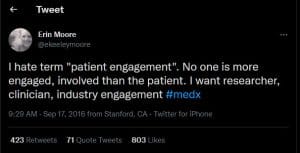 As someone who identifies as a patient, I agree with Erin: "We're engaged!"
If you look at the timestamp from this tweet, it's been a lengthy engagement: six years. When are we making it official to move from 'being engaged' to 'being married'? Let's look back even further to 2013 to examine one definition of patient engagement:
Health Affairs defines patient engagement as combining patient activation with interventions designed to increase and promote positive patient behavior, such as obtaining preventive care or exercising regularly, hopefully to lower costs. And according to HIMSS, patients want to be engaged in their healthcare decision-making process, and those who are engaged as decision-makers in their care tend to be healthier and experience better outcomes.
Patient engagement is measured by Consumer Assessment of Healthcare Processes and Services (CAHPS) surveys & Patient Activation Measures (PAM).  Where or with whom does the responsibility and accountability lie to communicate patient engagement measurements back to patients? The same definition of patient engagement applies to industry, except that the interventions lead to more human centered design and value-based care. Healthcare stakeholders such as health systems, pharmaceutical companies, biotech and life sciences firms, and insurance companies serve patients as end users. However, we are still missing the mark with patient involvement to make durable healthcare change towards a culture of patient centricity.  As long as I keep reading about patient experience panels without any actual patients on them, I'll keep speaking out about the need for a more practical way for patients' perspectives to add value to the product development process.
COVID-19 further exposed the gaps and flaws in our existing workflows. Clinical trials, care encounters, and access to data were found guilty of not meeting patients where they are and not adequately addressing the social determinant of health factors, creating barriers for patients. On the positive side, COVID-19 gave rise to an already more educated patient, due mostly to the power of the Internet. Market forces drove acceleration in digital health, specifically telemedicine, which were sorely needed for several years. Now that these innovations are here to stay (or so we hope), are we circling back to ensure adequate understanding of what is needed to achieve their full potential for public health improvement?
Although I worked in the healthcare industry for 20-plus years, it was really my experience as caregiver for my intellectually and developmentally disabled son that introduced me to how hard I needed to fight for what he needed to survive.  My mission of advocacy was widened and deepened upon my stage IV colorectal cancer diagnosis in 2014 when I shared my expertise with others fighting for scans and treatments.
Through my advocacy work, I do a lot of double and triple checking with patients to ensure that they not only understand the plan from their clinical team, but that they have the necessary supports in place to comply with navigation. You can have the best plan in the world, but if a patient isn't equipped to follow it, it's a moot point. And I hand hold when necessary through outreach. It's my own manual form of remote patient monitoring. Patients want to hear from and speak to others who have walked in their shoes. This peer-to-peer approach is particularly effective because of its empathy component. It builds trust to uncover unmet needs, provide solutions, and yield powerful, measurable results.
But returning to Erin Moore's point, how do we get researchers, clinicians, and industry engaged to listen to patients in clinical trial design, pharma/biotech drug development and health tech capability? How do we get the patient to actually be the one improving patient experience?
In nuptial terms, transforming an engagement into a marriage takes a lot of organization and careful execution. Several people who don't necessarily know each other and/or haven't collaborated previously share the same goal of making "the big day" go smoothly. And marriage is hard work. Patients are ready to take the next step towards tying the knot. We are here to put in the work through open communication and active implementation.  We have a large venue for this wedding, so save the date because you're all invited: clinicians, payors, policy makers, pharma, biotech, life sciences, health systems, employers, and patients. And I propose a toast: "To stop talking about involving patients and actually do it in 2022. Cheers!"
Stacy Hurt, MHA, MBA works as a Patient Engagement Consultant to represent the consumer perspective in clinical decision making, health IT user experience, and pharma/biotech drug development.  She was the patient keynote speaker at DPHARM 2021 and is a HIMSS Digital Health Influencer.  Stacy regularly advises on how COVID innovations such as telehealth need to remain as permanent options to enhance patient care.  Connect with her at https://stacyhurt.net/
Did you enjoy this post? Sign the Manifesto and learn more about becoming a member.