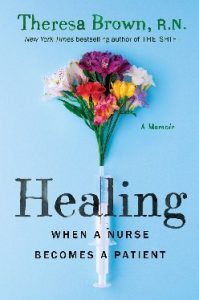 Editor's note: When oncology and hospice nurse Theresa Brown was diagnosed with breast cancer, she couldn't believe how disorganized and unempathic her care was. Ultimately she called it D.I.Y. care, as in Do-It-Yourself: figure out the treatment process, find the right physicians, insist on timeliness. The Radiation Oncology department, however, was different. The excerpt below from her new book Healing: When a Nurse Becomes a Patient, uses the example of radiation oncology to show that compassionate care often requires no more than ordinary kindness.
It's one word and the a is long: rād / onk. If you want to sound in-the-know, this is what you say for Radiation Oncology. My treatment began the Monday after Thanksgiving. I would go five days a week for four weeks and be done by Christmas; it was the schedule I had hoped for. My first appointment took place after Thanksgiving. The radiologist came across as frank and caring. She stressed how important it was not to miss any days of treatment. Afterwards, a nurse talked to me about taking care of my skin.
I asked the doctor and the nurse about riding my bike to my treatments. Would that be a problem? They must have said no, because I rode my bike. Someone asked how far my house was from the hospital and the answer, "three miles," seemed acceptable.
Before I left RadOnc that first day, they gave me an iPad to watch a video that showed what would happen during my treatments. My husband was at the appointment with me, and we literally put our heads together to watch. As I recall, the video was straightforward, kind of boring even, but reassuring. It made radiation therapy seem almost ordinary, and the large machines looked like something out of a science fiction movie—not a scary movie like Alien, but a movie where everything more or less turns out OK in the end.
After I met the doctor and the nurse and watched the video, I had another separate appointment where a technician took the measurements needed for my treatments. After taking my measurements she showed me the specially made shirts that RadOnc patients get for radiation therapy. "Volunteers make them," she said proudly as I looked at a rack of singularly hideously patterned short-sleeve shirts decorated with neon pentagrams inside dull pink squares and large avocado and cerise-colored flowers on backgrounds of dull brown. Imagine that Maria, the singing governess from The Sound of Music, found some really ugly drapes to use to sew shirts for cancer patients, instead of the lively flower prints from which she made clothing for the von Trapp children. No one would sing "Do-Re-Mi" in a field of Alpine flowers in one of those shirts.
I looked through them, each one uglier than the one before, and I loved them. First, they fastened with Velcro and the Velcro made the shirts special. Velcro connected the two front and side pieces of the shirt, making it easy to expose one breast for treatment and then put the shirt back together when treatment was done. I also liked how aggressively garish and dated the patterns on the shirts were, the opposite of the bland gowns patients usually wear. The shirts had a name, too, a good one: dignity robes.
Dignity: Intrinsic worth, also, gravity and poise. Can a shirt do all that? In this case, yes, because the shirt was all of a piece with the clinic. At RadOnc they cared. So bring on the dignity robes, with their pseudo-psychedelic patterns on thick, mud- brown cloth. Bring on the video, which has gotten mixed up in my mind with the videos they show on airplanes before takeoff: "Here are the safety features of our airplane" versus "Here are the cancer-fighting features of radiation oncology." Bring on the radiologist, who was clear and efficiently reassuring.
Nothing can make a cancer diagnosis better. There is bad and worse. There is also terrible. And there's tragic. What I wanted, and what I got in radiation oncology, was the feeling that people cared enough to make treatment easier. Right down to letting me sit in the hallway outside the waiting room, because watching snippets of game shows and commercials on the waiting room TV made me, for reasons I cannot figure out, anxious. Five days a week for four weeks, a friendly technician stepped out into the hallway and called me in for each of my appointments, without ever implying that I was putting them out.
Forgetfulness hit me like an extra symptom of cancer once I was diagnosed; trauma theorists assert that forgetting and rearranging memories are common for trauma victims. Did having cancer make me a trauma victim? Me, with my stage-I, found-on-ultrasound breast cancer. Well, of course. What a surprise, then, that I actually have some pretty great memories from RadOnc, and despite the large, pricey machines and the sci-fi vibe of the place, it was old-fashioned concern and basic politeness that made my radiation treatments feel better than other aspects of my cancer care.
So, here's my question. If the staff at radiation oncology can be compassionate, why can't they be that way every where else?
From HEALING: When a Nurse Becomes a Patient by Theresa Brown. Reprinted by permission of Algonquin Books of Chapel Hill. Copyright © 2022 by Theresa Brown. All rights reserved. Connect with Theresa Brown on Twitter and Instagram.
Not a member of the Society?  Please consider joining here: https://participatorymedicine.org/memberships/.