Editor's note: Ibrahim Rashid contracted Long COVID more than two years ago. The experience is propelling his patient advocacy and entrepreneurship, as co-founder of the digital health company Strong Haulers. In this excerpt from his new book, Strong Hauler: Learning to Live with Long COVID, Rashid describes how finding clinicians who became genuine members of his care team brought him from the depths of Long COVID.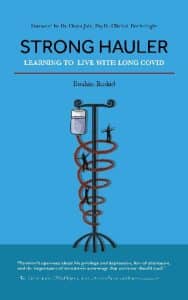 Discovering you have Long COVID is quite a bizarre journey. You contract the virus, and once 14 days have passed, you start to feel fine. A few weeks or months later, you might notice that things are slightly off. Perhaps you wake up at night gasping for air. Maybe you can't read as much or work for as long as you used to. Or, like me, you have difficulty breathing, which will be bad enough that you'll pay a visit to a clinician. They give you some medication, run a few tests, and once the results come in, they tell you there is nothing to be worried about. You are fine, they say.
Confident in their assessment, you let a few months go by, ignoring the tightness in your chest and tickle in your throat, and you go about your life until again, you notice that things are off. But this time, things feel really off, and you find yourself struggling more than the first time around. Again, you go to a clinician and again, after running some tests, they might either say that there is nothing to be worried about, you are fine, and it's all in your head, or they may finally admit to you that they aren't sure how to explain your symptoms.
What happens next is crucial. You need to figure out if they are willing to be a partner in your health. You know your own body best. If things feel off and your clinician is dismissing your concerns, then run away from them as fast as possible. They're not helping you. Heck, they may just be giving you the runaround by making you do all sorts of tests that insurance may or may not cover. If you find yourself in this situation, please ask other long haulers for insight on who can help you. The Long COVID clinics can take months to get into, and they may not specialize in your specific ailment, so it is important to ask other long haulers for advice. You can connect with them through support groups like Body Politic or other advocacy groups.*
If you find a clinician who is willing to work with you through the uncertainty, stick with them. If you're part of the first few waves of COVID long haulers, as I am, then you're a guinea pig. No one knows how to treat us, so it is key to find someone who will not dismiss your concerns, are willing to explore and learn with you, and exemplify compassionate care. I have found two such clinicians. The first was Terry Moore, a Neuromuscular and Cardiovascular Physiologist based in Canada who specialized in treating concussions and other complex illnesses. Through my friend, Spencer, I learned that Terry had experience treating symptoms like brain fog, fatigue, and immobility, even if they weren't directly caused by COVID.
During our first remote session together in July 2021, he spent three hours validating my experience. His theory was that coronaviruses caused muscles to contract. When they did so, they could push up against the nerves. This resulted in either a "pinch" which causes pain, or a "block" that cut off the nerve signal, rendering patients like me immobile, fatigued, or in pain. These pinches and blocks can be exacerbated by stress or poor sleep hygiene, which causes the muscles to suddenly contract or remain in a tighter state.** Terry has prescribed me a range of exercises and lifestyle changes to manage my symptoms, and he's helped me understand the mechanics of what is going on inside my body.
The other provider was my clinical psychologist, Dr. Divya Jain. Initially, I was searching for any health psychologist with clinical experience treating Long COVID. I was drawn to Dr. Jain because of our shared background as South Asian Americans. Dr. Jain helped me better understand the potential role of emotional and relational stressors in triggering some of my symptoms. She also helped me improve my meditation practice, develop stronger breathing habits, learn progressive muscle relaxation techniques that can help ease the tension in my body, and held me accountable as I've tried to incorporate Terry's recommendations into my new lifestyle. She taught me to silence my inner critic, calm my thoughts, and come to peace with my circumstances.
For both Terry and Dr. Jain, I was their first Long COVID patient. Neither of them gave up on me. Having a team of clinicians who will not only empower you with knowledge on how to take ownership of your health, but who are also brave and humble enough to learn alongside you, is key to managing your illness.
From Strong Hauler: Learning to live with Long COVID, by Ibrahim Rashid. Copyright © 2023. Reprinted by permission of author.
—————————————————————————————————————————–
* The COVID-19 long-hauler Advocacy Project has created a COVID Competent Healthcare Provider list that you can access from here: https://docs.google.com/spreadsheets/d/1qRz6jcMX2Yx7_prnJqdBQFXgVJE_CgZSlIYNshW3XJM/edit#gid=718047883 
Please consider joining the Society for Participatory Medicine's effort to inform, educate and alert patients, physicians and caregivers to important issues like this: https://participatorymedicine.org/memberships/