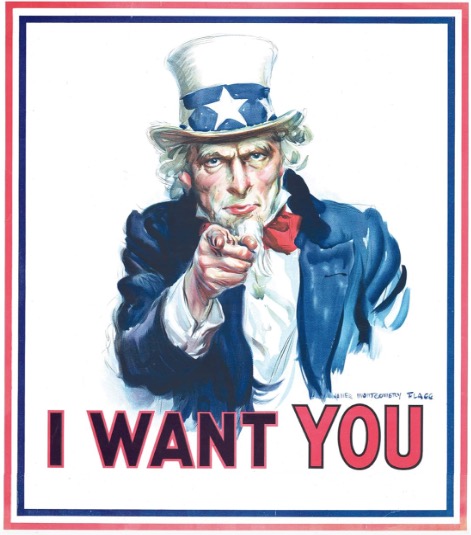 As the World War I recruiting posters put it, "Uncle Sam Wants You!" In this case, though, it's not the U.S. Army, but the U.S. Food and Drug Administration.
The FDA, whose regulations touch 25 cents of every dollar spent by U.S. consumers, is launching a Digital Health Advisory Committee. The patient voice should be an integral part of those deliberations, but it won't happen unless patient advocates step up.
Some government advisory committees reserve slots for certain groups; e.g., the elderly or a particular industry. This new committee is simply described as comprising nine members, including the chair, "selected by the Commissioner or designee from among authorities knowledgeable in the fields of digital health." In addition, temporary members may be selected for a particular meeting, depending on the topic.
Given the sweeping impact of FDA decisions in this country and as a model for foreign regulators, the committee's ambitious goals are certain to attract an avalanche of would-be advisors from industry and academia. Possible topics include "technologies such as artificial intelligence and machine learning, virtual reality or wearables" and issues such as "decentralized clinical trials, patient-generated health data or cybersecurity," according to a short description posted on the FDA's website.
The committee is seeking technical and scientific subject matter experts from diverse disciplines and backgrounds, members of all racial and ethnic groups "and individuals with and without disabilities."
While there isn't any expressed preference for patient representation, remarks made by FDA Commissioner Robert M. Califf in May at a Science for Patient Engagement Symposium hosted by the National Health Council provide grounds for optimism.
"One of the most important aspects of our work at the FDA is to incorporate the perspectives and experiences of patients to make sure the evidence reflects what matters most to, and is most effective for, patients and their caregivers," Califf said. "It seems obvious to say that if we want essential insights about what it is like to live with a disease, the outcomes that matter, and the adequacy of treatment options, we should ask people who are living with the problem or at risk of experiencing the problem – both patients and caregivers."
Nominations for the Digital Health Advisory Committee are due no later than Dec. 11. Details are available on the FDA website, here.