I don't get surprised these days as easily as I used to before I got "e." But something popped my eyes open last weekend, and I dug into it. It goes to the heart of where the power is, in the doctor-patient relationship. But not just the power – the responsibility for getting it right. Yikes.

A new book, Patient, Heal Thyself, is reviewed in the 12/26/08 New England Journal of Medicine (review here; subscription required). I'm a bit stunned by author Robert Veatch's apparent position on "patient autonomy," but I soon learned that his utopian-sounding views may be closer to reality than I imagined.
Still, it seems a bit much. Reviewer Mark Hall, J.D., of Wake Forest, says:
Veatch's proposals are so startling that readers of this review may doubt my characterizations, so I will quote liberally, starting with its excellent title — Patient, Heal Thyself. This injunction captures Veatch's two main points: Patients alone are in charge, and they have no choice but to assume this active role. According to this "manifesto," doctors "will no longer be seen as capable of determining what will benefit their patients. It is patients themselves who, in the world of the new medicine, have to take charge."
As someone whose butt was saved by excellent medical care, I find it unimaginable to consider doctors "incapable of determining what will benefit" me. What, like I was going to think up high-dosage Interleukin-2 on my own?
But whether we accept every word in the book (which I haven't yet read), let's step back and look at those two main points.
Patients alone are in charge: Working group colleague Charlie Smith MD  wrote about the review, too. He reminds me that patients are indeed in charge of what gets done; a major concern doctors discuss all the time is compliance: whether we slacker patients will actually take the recommended medication (I do), heed dietary recommendations (oops), get checkups at recommended intervals (mezza-mezz), etc.
And I realized, it goes beyond that: a friend of my family developed kidney cancer a year after I did, and elected not to get treatment where I did – he stayed with his local hospital (also in the Boston area), and is dead now. Who was in charge? Clearly he was. And that leads to the second assertion:
[Patients] have no choice but to assume this active role. A vital question is whether the patient realizes this – or, more to the point, realizes the implications. Did our friend fully comprehend the implications of his choice? Was he "e"? Was he empowered or hopeless? Talking to him, I was never sure, but it didn't feel like he felt he could influence the outcome.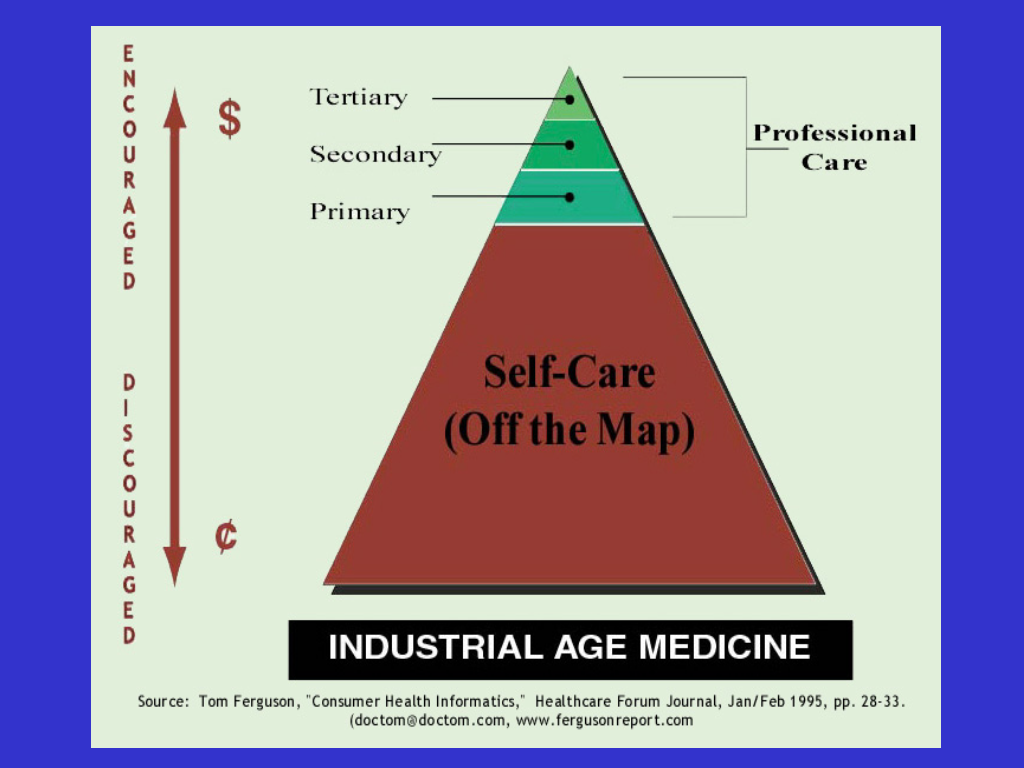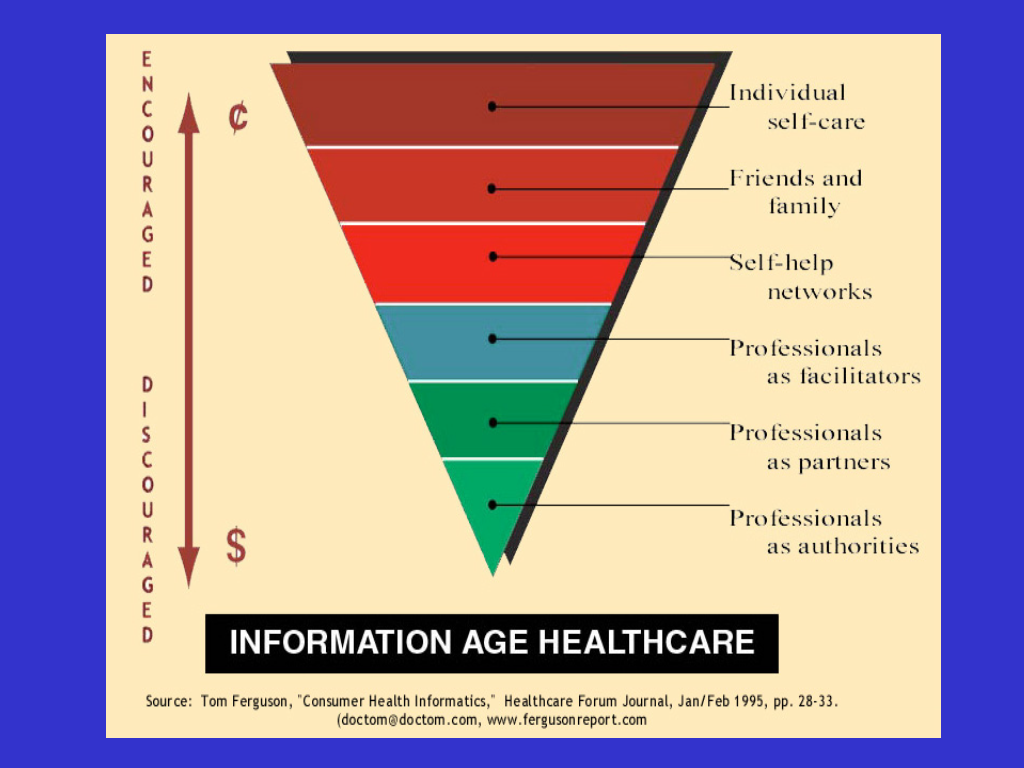 But then I thought back to "Doc Tom" Ferguson's visionary slides, dating back to 1995, predicting that patient access to medical knowledge would turn healthcare on its head. (Click to enlarge.)
The vast majority of tough thinking and wonk work on blogs like THCB, and at conferences, is about the ugly tangled mess American healthcare has become. I'm not belittling that work – it needs to be un-messed – but while that work continues (and regardless of its progress), the real juice for each patient now, today is in how well we take responsibility for our care, by informing ourselves and making choices.
Charlie nailed it in the close to his post: "What lessons does Mr. Veatch's book leave with us? …It is a good wake up call for physicians. We need to embrace the 'ePatient Revolution', recognize that the patient MUST be the one who is in control of their own health care, assist them in achieving this, and not be tempted to allow that to interfere with our professional self esteem because, in my view, it in no way threatens it!"
That echos last week's post "Physicians are coaches, patients are players."
Or, as my primary physician Danny Sands put it when he and I spoke at Connected Health in October:
Embrace knowledge symmetry.
That's the core of it. See our banner graphic – "health professionals can't do it alone." We the patients do need to accept that not only do we have the right to guide our care, doctors need our help – and we need their guidance.