Updated 9:38pm ET – fixed many broken links :-/
I'm spending today (ONLY today, unfortunately) at the MIT Media Lab's third annual Health & Wellness Innovation event.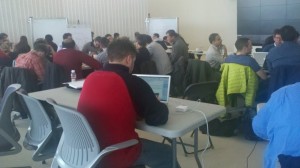 It's a two week competition – six teams pursuing some terrific ideas for the most patient-friendly health innovations I've ever heard of. Or close to it.
I'll write more about it but for now I want to just get this started, because I think they're going to be crowd-sourcing input from us out here, via Twitter and probably some blogs.
These are all heavily data-centered, open-source, collaborative projects. Below I'll say why this looks so very different to me. But first, here are the Twitter hashtags, with links to the Twitter feeds:

What's conspicuously different about this event compared to any other I've seen:
In this room, if what needs to get done isn't getting done, it's viewed as a system failure, not a "patient compliance" problem. These people are striving to make everything work better, in our hands.
After 150 events in two years (medical conferences, tech events, policy meetings), I've concluded that medicine's single most important dysfunction is the idea that useful wisdom comes only from biology (or other medical innovations), and it's up to us to use whatever they danged well give us, containing that received wisdom.
So when patients don't do what they're told, it's a "compliance" problem – and people in healthcare bitch about how irresponsible we are. Even the October Health Leaders magazine had this near the start – in its "Patient Engagement" issue!
In our annual Industry Survey, leaders cite patient noncompliance and lack of responsibility as the fifth-greatest driver of healthcare costs at their organizations.
Meh! How about you guys get your act together and give us methods that work for us? 
I mean, seriously: in what other industry can they respond to "This is hard to use" and "I don't like doing this" by saying "You're just not good enough for our wonderful inventions"?
I used to work in software companies that tried that approach. They went out of business when innovators came along who understood that easy to use gets done better, and people like it more.
A great example is GlowCaps – a pill bottle cap that glows, beeps, or texts you when it's time to take your pills. (Check out the "adherence" results from a clinical trial – nearly perfect! No change in patient "morality" – just a better freakin' tool for us to use.)  (David Rose, formerly of that company (now sold), is in this event.)
Here's to the people working on these challenges. If you're a Twitter fiend, follow those hashtags and let the innovators know what you like.
p.s. Anyone who wants to complain about patient "compliance," please remember that the shoe's on the other foot with clinician "quality": hospital workers only wash hands per protocol about half the time, physicians prescribe the standard of care only half the time. The result, as Susannah Fox blogged about Peter Margolis, is that ".5 x .5 = .25" – the shared unworkability of everything means clinicians do what they're told half the time, and patients do too, so healthcare on balance operates at 25% efficiency.
And we grouse about rising costs and fail fail fail.
Here's to the geeks who understand what works.