Adapted from a letter distributed this week to members of our Society for Participatory Medicine, by President Sarah Krug.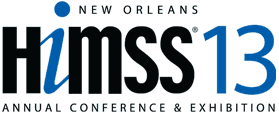 The Society for Participatory Medicine is excited to announce our collaboration on a variety of initiatives with HIMSS, one of the nation's leading health information technology groups.
Upcoming webinar:
Over the next few months, we will be working on a co-branded webinar around the topic of eConnecting with Consumers. As planning takes shape, we encourage you to submit topics of interest. We will also identify opportunities to develop co-branded resources and tools that can be included in a web-based eConnecting with Consumers toolkit to equip providers to engage consumers utilizing HIT.
HIMSS conference, New Orleans:
SPM will also be part of the 2013 HIMSS Annual Conference and Exhibition, March 3-7 in New Orleans. It's one of the most important meetings in the field, with over 36,000 professionals expected to attend over 300 education sessions on topics such as clinical and business intelligence, health information exchanges and Meaningful Use.
The HIMSS eConnecting with Consumers Committee ("eCC"), of which we are a member, will host its first Patient Experience Through HIT Forum on March 5th.
Member discount: As part of a collaborating organization, SPM members are entitled to a HIMSS member discount on registration. (This is a professional conference, not cheap; SPM membership will more than pay for itself. Details below.)
Attendees, please also join the tweet-up hosted by the HIMSS eCC Committee, which is collaborating with ONC.

#HealthIT Tweet-Up: Provider Engagement: Learn How to "Transform Healthcare Through Digital Patient Engagement"
Tuesday, March 5, 3:30 -4:30 at HIMSS Social Media Center
Book:
At the conference HIMSS is launching a book, written and edited by many members of both societies, entitled Engage: Transforming Healthcare Through Digital Patient Engagement. Recognize the style of the cover illustration? It's by SPM's resident artist, Regina Holliday!
Best Wishes,
Sarah Krüg
President
To join SPM ($30/year for individuals) click here.