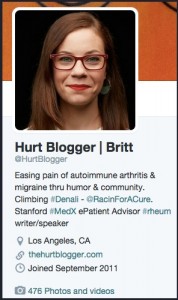 LADIES AND GENTS, YOUR ATTENTION PLEASE.
The famous @HurtBlogger, chronic pain patient Britt Johnson, has announced that she will LIVE TWEET 48 hours of "her chronic life," MONDAY AND TUESDAY, Feb. 2-3. She has no idea what will happen – might be ordinary, might be nasty. (Long ago the radical group The Last Poets sang "The revolution will not be televised … it will be LIVE.")
Britt is one of the "e-patient advisors" at our cousin event Stanford Medicine X (as are SPM members Nick Dawson, Hugo Campos, Jamia Crockett, Sarah Kucharski (@AfternoonNapper).) (Well, we're not formally cousins, but obviously we have a lot of overlap in our "e-patient DNA.")
Follow her twitter feed – details in that blog post.
Britt's in the Pacific time zone. Her last tweet at bedtime Sunday:
Off to bed – tomorrow I begin 48 hrs of #ChronicLife live-tweets of my disease. We'll see what happens, not so great tonight…

— Hurt Blogger | Britt (@HurtBlogger) February 2, 2015