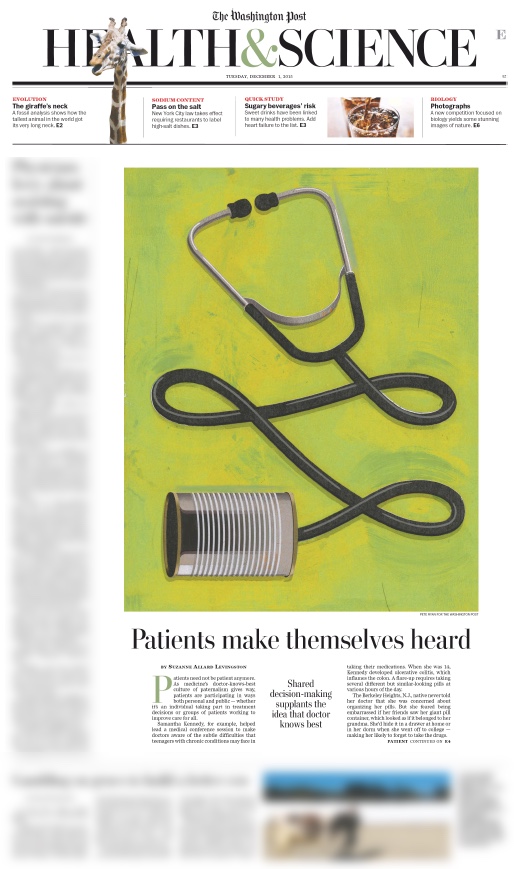 Today's Washington Post has a terrific, carefully researched, precise article – on the front page of the Health & Science section – about the reality of a good patient-clinician partnership: Does your doctor listen when you talk? by Suzanne Allard Levingston. (As often happens, the print edition's headline is different: "Patients make themselves heard," with the subtitle "Shared decision-making supplants the idea that doctor knows best."
It's accompanied by a great "tips" sidebar Here's how patients can take a larger part in their own care.
The importance of this piece is heightened by the surprise appearance yesterday of the viral (and badly misfocused) coffee mug we blogged about: The truth about that "your Googling and my medical degree" mug.
I love that this article prominently features so many well known SPM members, leaders and friends: Gilles Frydman of ACOR and SmartPatients, Danny Sands, ImproveCareNow (several SPM members in that group), Peter Margolis, Mayo's Victor Montori, PCORI, the BMJ's Patient Partnership campaign, and more.
But I love even more that it leads with someone who's not in our circle of "usual suspects" – 22 year old Samantha Kennedy – and includes others as well.
This is truly a social movement, folks, and it's growing. Reality is evolving. Kudos to the writer and her editors for getting this tricky evolution exactly right.