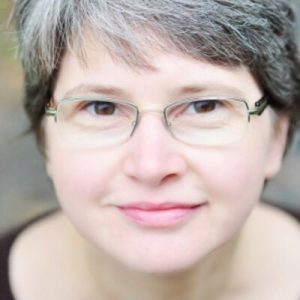 In the Spring of 2016 I had the opportunity to teach the course New Media and Health Communication for an undergraduate class at The College of New Jersey. The class, designed by Dr. Yifeng Hu, already included an introduction to participatory medicine and patient participation in their own healthcare.
With the help of numerous colleagues from the Society for Participatory Medicine, I added a few more touches to the course:
Dr. Peter Elias was a guest speaker and framed our course with examples from his family medicine practice. He designed an OpenNotes variation before the concept had a name. My students loved his openness to answer questions and we kept bringing up examples of his presentation throughout the course.
E-Patient Dave walked us through the newest communication tools and patients and health professionals promoting the patient/physician partnership.
Regina Holliday told us her life story and inspired us all to always help others, to improve healthcare and to use our creativity to achieve goals. The course was part of the Arts and Communication Studies School at the college and Regina is the perfect example of how arts can be an effective maybe a most effective communication tool.
Many others SPM-ers accepted to be interviewed by my students and shared details of working in healthcare communications on either the provider or the patient side: Peggy Zuckerman, Danny Sands MD, Kathy Kastner, Alan Spiro, MD, Geri Baumblatt, Casey Quinlan, Danny van Leeuwen, Cheryl Greene, Rahlyn Gossen,  Stuart Grande, Jack Whelan, Scott Strange, Ross Martin, MD, and one more time: Peter Elias, MD and Regina Holliday.
The guest speakers and being able to interview health professionals were the highlights of my students' class and I can't thank all of you enough for your generosity! SPM rocks!
I could not have taught this course without the incredible knowledge and information sharing that happens in the SPM community. I am thanking everyone for sharing articles, information and ideas. In the following days I will share two posts written by two of my students: Cleo Kordomenos and Emma Streckenbein.
Finally, it was such a pleasure to interact with my students. They listened, learned, shared and were moved by every story they heard. They wanted to help and were thrilled to hear stories of the potential of new media to improve health communication. A number of them already had interactions with the healthcare system for themselves or through their parents and grandparents. While still on their parents healthcare insurance plans (thanks ACA!), they wanted to understand the system and felt they needed to know more.
There is a great need to teach basics of how the healthcare system works in US at the highschool/undergraduate level. Youth need to know how to read their healthcare plan, how to work with their doctors for diagnosis, treatment and recovery. They need to understand how to find out what things cost in healthcare. They need to be able to pick a healthcare plan. They need to know how to read medical research and how to make sense of health articles in the media.
I invite the SPM community to help me write a newsletter dedicated to teaching health communication and participatory medicine at all levels. If you do any health related teaching and if you would like to share your opinions about teaching participatory medicine, please email me at yogileana@gmail.com before August 10, 2016.