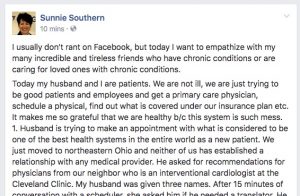 Sunnie Southern is an avid activist for better care, a proactive patient (very responsible), a long-time member of our Society for Participatory Medicine, and a good friend with an irrepressibly bright disposition. As I often say, "I've never seen anyone with a more truthful first name." So when she posted this publicly today on Facebook, I got mad and asked if we could post it here.
In my view this is garbage performance of the US health system – not just providers but the insurance companies and hired vendors, as you'll see.
Sunnie and I agree we must educate each other about the realities of getting care in America, until companies fear looking as inept, as these companies do. And as she says at the end, we must fix the paralyzing failure of all patient information to be present at the point of need – not just need by patients, but needs of the employees who don't know where things are!
And for those who say retail clinics like Minute Clinic should be avoided, get out your dinosaur hat and empathy hat as you read this. (The best place to comment is on the Facebook post, where there were dozens of comments in the first few hours.)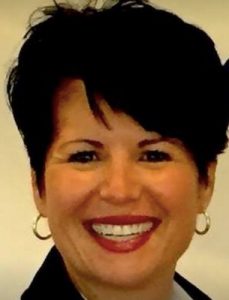 I usually don't rant on Facebook, but today I want to empathize with my many incredible and tireless friends who have chronic conditions or are caring for loved ones with chronic conditions.
Today my husband and I are patients. We are not ill, we are just trying to be good patients and employees and get a primary care physician, schedule a physical, find out what is covered under our insurance plan etc. It makes me so grateful that we are healthy b/c this system is such mess.
1. Husband is trying to make an appointment with what is considered to be one of the best health systems in the entire world as a new patient. We just moved to northeastern Ohio and neither of us has established a relationship with any medical provider.
He asked for recommendations for physicians from our neighbor who is an interventional cardiologist at the Cleveland Clinic. My husband was given three names.
After 15 minutes of conversation with a scheduler, she asked him if he needed a translator. He said if the doctor speaks Arabic, French, English, or Spanish, then no he doesn't need a translator.
He then found out that the first 2 docs on the list are not taking new patients and the other couldn't see him until Dec. With a little negotiating and discussion about the fact that he had pneumonia a month or so ago he was able to possibly get in Sept. (His almost pneumonia was diagnosed and treated very well by an NP w/ Minute Clinic as we don't have doctors here yet.)
In order to determine if he could get in earlier, the staff needed to check and call him back. They did call back within a reasonable amount of time, but he was called by 2 different people neither of which knew the other had called or what was discussed.
He texted me and said that you could die before you see a physician.
2. Then I began calling our insurance company to see what is covered and what information we need to tell the physician to make sure that we don't get charged for things we shouldn't and that we don't get things that aren't covered – duplicate tests, non-preventive tests, sent to labs that are out of network etc.
The insurance company who administers our plan had no record of us ever having lab work done in over 18 months even though we had to have lab work to get the benefit that she could see in the system. I could see the lab work in my PHR/ patient portal for 2 different days – same labs – 1 set in Sept. 2016 and 1 set in Feb. 2017.
She called the wellness platform that they use called Rally Health, and the support person could not see that I had any labs either even though they paid us the benefit for our HSA and we have points in their system saying that we completed the biometric screening including the labs.
The Rally person did tell the insurance person that we would need a form completed by a physician by Sept. 2017, but the insurance person didn't know where the form was.
So, I had to talk to a Rally person so they could tell me where to find it. After talking to the insurance company rep for about 15 minutes and then being on hold for 5-7 minutes for the Rally agent, I got to the Rally agent and they had no idea why I was calling.
They still could not see our labs from last year so, I let that go because in the meantime my husband confirmed via text that the labs were done in 2016. This is important because when we get our physicals I am sure the doctor will want to do lab work and I don't want to be charged for second panel of the labs were already done in 2017.
Then the Rally agent tried to direct me to the form that I needed to fill out so that we get the credit. After about 10 minutes of him telling me where to look and my screen looking different than his, plus a whole lot of distracting scrolling information that has nothing to do with the health program, I find the button to click to find a series of questions that I had to answer before I could get the form that we will need.
Then he proceeded to tell me that we need the form completed by Sept. I told him we will try, but as of now the soonest my husband can be seen by a physician is in Sept. I haven't even started trying yet.
This is CRAZY! So, at the end of today, my husband and I have spent a collective amount of about 3 hours trying to schedule 1 appointment for him and understand our benefits and get the right form and we still don't have a doctor or an appointment, or know for sure which form we will need to complete.
Being a patient is a full-time job. In addition to healthcare being so expensive, you have to take off work just so that you can even schedule appointments. Health IT friends, we have to fix this and fast or our whole country is going out of business.
BTW, if anyone knows of a good doctor in Cleveland/ Shaker Heights who is accepting patients, please let me know!