(Part one of three)
You Are (Almost) There 
Have you ever been to a big trade event in a hot sector like healthcare or tech? If you are a member of S4PM, perhaps it was at CES or HIMSS or Health 2.0 or a MedX or a TedMed event. If such a scene is familiar, then perhaps a few prompts might also frame a picture that lets you walk with me in the virtual sense down some halls at a healthcare conference in Quebec.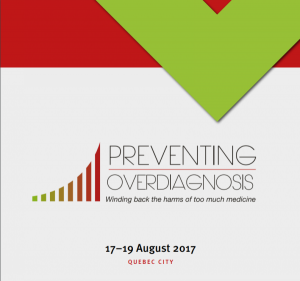 Last Thursday, August 17, at the convention center in Quebec City, more than 400 doctors, patients, clinicians, caregivers and policy makers from around the globe met for an international conference on the topic of overdiagnosis in medicine, or as the event banners said: "Preventing Overdiagnosis: Winding Back The Harms of Too Much Medicine."
The event was sponsored in part by our own Consumer Reports who recruited me last June for a "patient activist" spot on its team for the Choosing Wisely campaign which has its own set of very similar aims.

I could tell from the conference schedule that there would be a wide array of topics and names to filter and file in my head. My iOS camera roll gives a good glimpse of how that process went.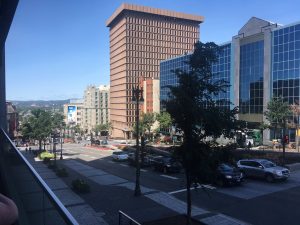 On Wednesday, the day before the event, the picture at left was posted by a conference organizer, David Warriner, from the British branch of Choosing Wisely. The picture nicely set the stage for everyone following the conference hashtag (#podc2017) on Twitter.
Calling it "a nice spot for lunch," Dr. Warriner invited his onlookers out on the balcony with him to gaze down at the scene around the venue where the weather was lovely too.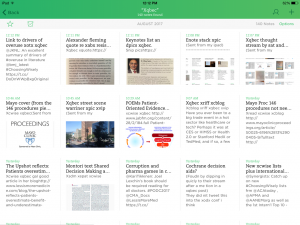 A feast for curious minds
Three days later, by the closing sessions on Saturday, my camera roll was bulging, my Tweetstream was buzzing with updates from a few dozen new peeps and, as seen in the screenshot at right, my Evernote stack tagged "Qbec" was almost 150 items deep, full of snips, quotes, slides and charts about over- (and under-) diagnosing that I saved to unpack at home later.
In the time in between, there had been a feast of new information for people who follow such topics, including some queries about patient autonomy and who should be choosing how much of which things.
One item in particular may especially amuse blog readers from S4PM. The same Dr. Warriner did his own Twitter poll asking all conference followers: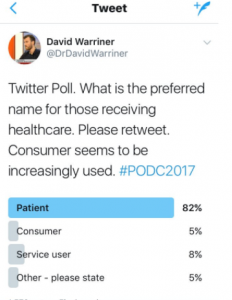 What is the preferred name for those receiving healthcare?
Their answers are shown in the screenshot at left, where (small surprise) the term "patient" led by an enormous margin and "consumer" was dead last.
Like we are shocked.
In between the relaxed opening and the more fenzied finish full of thanks and kudos, there was a banquet of new things to know, with familiar names and tempting titles that made me want to click and read right away, such as the ABIM (American Board of Internal Medicine) announcing new additions to its watch lists of conditions for the Choosing Wisely campaign, or an international Top Ten list of procedures that may waste money or risk harm to patients.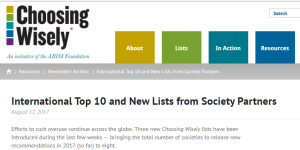 In a similar vein, there was the Mayo Clinic and their list of 146 dubious tests, and Victor Montori in JAMA exploring the early big data returns on the first few years of #SDM (shared decision making) and the use of more formal decision aids for doctors and patients.
Then there were also sessions on what we might call the "user experience," such as patient preferences for the delivery of difficult news. Stay tuned for more about that.
For me personally, the cherry on the virtual sundae was the chance to hear from one of my favorite experts, Rita Redberg MD, a specialist in cardiology at UCSF and current editor of JAMA Internal Medicine, who has taken many brave stands in favor of solid science and evidence-based medicine. I am very glad that conference arrangements with guests will permit several podcasts to be made available online. I will be back here on the blog to add lists and links this week and to post review summaries of some of the most interesting talks, including Dr. Redberg.
My Easter Egg Ending
Some viewers may now be scratching their heads a bit. How is it that I didn't already hear Rita Redberg live if I am such a fan?
Therein this post contains a bit of an easter egg (as in a hidden surprise).
Like most of you who are seeing this post, I was not in Quebec at all. As much as I would have loved to actually be there consuming croissants and quaffing cafe au lait, I didn't leave my home base in Tucson. The pictures, and the data I collected above were made possible by the thoughtful organizers who published ample information before, during and since, plus the generous social media participants who typed a steady stream of live updates that I was happy to re-tweet. I'd like to think that re-tweeting, and some of its editing, helped me contribute a bit to the proceedings too, doing my bit to keep the tweetstream bubbling while getting to know a new set of virtual allies. I slipped in this easter egg ending simply to underline how friendly such a conference can feel even for those of us who are dialing in from a distance.
Come back to this space as I continue unpacking my portmanteau to find out more about the substance of what was shared in Quebec. Meanwhile use your imagination to savor another croissant along with me.
Cheers,
Carla B.