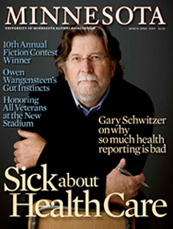 Correction: the email address for volunteering has been updated to volunteer@participatorymedicine.org
We've written many times about Gary Schwitzer and the excellent work he does at Health News Review. Last December I said reading health news carefully is a vital e-patient skill, and "Health News Review is easily the best website around."
Gary just joined the Society for Participatory Medicine (at my suggestion!), and I asked him to say something about why. He replied:
"The Society's goals align with my professional goals quite nicely and directly.  The Society promotes 'the importance of well-informed, empowered and engaged patients making informed decisions about their care and treatment.'  All of my professional activities are dedicated to the improved flow and quality of news and information to health care consumers so they can make smarter health care decisions.
"I've worked in some form of health journalism/communication for more than 35 years.  My HealthNewsReview.org project is the only such service of its kind in this country, evaluating and grading daily health news and providing feedback to journalists.  It receives its sole financial support from the Foundation for Informed Medical Decision Making, a leader in this arena.
"I'm very troubled by the harm that can be done to individuals and to society collectively by the dissemination of inaccurate, imbalanced and incomplete health care news and information.  I'm pleased to join the terrific group of talented and committed individuals who have already become Society members."
Want to tell the world why you joined? Write to me, epatientdave at e-patients.net.
The coming year will be active for your Society. Participate!
Want to start a project or join one? Volunteer.
Want to join? Click here. It's just $30 for individuals, or free if you need it.

See our full member list, including Gary, here.

Organizational memberships are most welcome too, from Innovator to Gold.