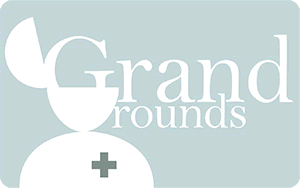 This is e-Patients.net's first opportunity to host Grand Rounds, which is a collection of some of the medical blogosphere's best writing over the last week. We asked bloggers to look at our sister website, the peer-reviewed Journal of Participatory Medicine, and create posts inspired by or extending the articles there. We did this not to be self-serving, but because we think it's important to shine a light on the Journal's role as a source of peer-reviewed, evidence-based participatory medicine research. A group of us formed the Society of Participatory Medicine to advance the credibility and understanding of patient empowerment and patient advocacy.
We want to dedicate this edition of Grand Rounds to our friend and mentor, Dr. Tom Ferguson, founder of e-Patients.net and direct inspiration for the founding of the Society for Participatory Medicine and the Journal of Participatory Medicine. Tom's selfless, tireless work in support of the empowered patient culminated in the creation of the seminal, visionary white paper, e-Patients: How They Can Help Us Heal Healthcare (pdf), published just after his death.
Thanks also to Nick Genes and Val Jones, instigators of Grand Rounds.
This week's posts …
Amy Tenderich at Diabetes Mine has a post about Dr. Richard Bernstein, subject of Jeana Frost's "Innovations in Participatory Medicine: The Advent of Do-It-Yourself Blood Glucose Monitoring," recently published in the Journal. Bernstein was a champion for innovative glucose monitoring systems – has Frost writes, he "did not invent glucose monitors, [but] he transformed how the technology was used and who used it." [Link]
Author, speaker, and blogger Bruce Sterling, an originator and proponent of the concept of an "Internet of things," posts about the JOPM's article, "Report on the Reassembling Health Workshop Exploring the Internet of Things." Says Sterling,
Silos are exploding all over. I hate to think of the trouble that inventing social-media hackers can make for themselves by "participating." Somehow, a home-schooled Tea Party hospital immediately leaps to mind. Why surrender to the commie menace of Obamacare when you can download brain surgery into your 3D lasercutter?
Michelle Wood at Occam Practice Management writes generally about the Journal, and about participatory medicine, exploring the automobile analogy that the Society of Participatory Medicine has used: "Participatory Medicine is a movement in which networked patients shift from being mere passengers to responsible drivers of their health, and in which providers encourage and value them as full partners." She brings in the concept of manual vs automatic transmission, and the idea of a cruise control.
I think many patients (I'm going to put myself in this guilty party) want an automatic, cruise control approach to our health most of the time. As long as things are going well, we want to focus on other things besides our vital signs and family history and risk factors. There's a whole world demanding our attention, whether it be career aspirations, family commitments, or personal goals. We go to work, try to meet our obligations, and carve out some fun down time for ourselves. How many of us, when we go online, regularly read up on the latest medical information, or even try to understand more about our own health? Until there's a problem on the road, we don't look for the brakes: we feel like we can keep cruising along just fine.
Amy Romano at Science and Sensibility has a post on the limitations of evidence-based medicine. In "Do Cesareans Cause Endometriosis (Redux): What could patient-driven research look like?," she discusses how a specific issue, Cesarean wound endometriosis, doesn't show up in clinical trials, quoting Henci Goer: "Even if the problem made it onto the researchers' radar, the trial would have to be extremely large and follow-up impractically long to detect it. Where RCTs are considered the only evidence worth having, outcomes that cannot be picked up on by RCTs functionally don't exist." Goer's post on the subject drew comments that "turned into a rich source of qualitative data on the quality of life impact of both the disease and the various treatment options." This was a significant source of data, but it raises the question about comments on a blog post or in other kinds of social media: "is it reasonable at all to use that data to guide research or care when it doesn't even remotely resemble the scientific method?" [Link] Amy also reminded us of her post a year ago, specifically about the launch of the JOPM: "Can we improve research by crowd sourcing peer review?"
Here at e-Patients.net, our own Susannah Fox writes about an older JOPM article, David C. Kibbe and Joseph C. Kvedar on "Building a Research Agenda Participatory Medicine." Kibbe and Kvedar had considered the role of coaching in increasing participation over time, how norms shape social behavior, and whether social networks could serve as a coaching tool. Following up on these points, Susannah talks about a recent meeting where Nicholas Christakis, co-author of the book Connected, considered ways to intervene in a social network. He discussed how "contagion manipulation as the most promising path for sparking health behavior change," and provided evidence that "altruism spreads in networks." This was all in a Legacy Foundation/Schroeder Institute discussion of the potential for smoking cessation via social networks. A group of ex-smokers took the stage later in the day and discussed how metrics motivates them, and supported the idea that altruism spreads. "Or, to bring it back to Kibbe & Kvedar's question: If you have benefited from peer coaching, you are more likely to become a coach. And coaches not only stick to their non-smoking regimen, but stick around the network to spark this behavior in other people." [Link]
Society cofounder Gilles Frydman also posts one of the older JOPM articles, Lawrence Green's "The Field-Building Role of a Journal About Participatory Medicine and Health, and the Evidence Needed." Gilles writes about the limitations of peer-reviewed, evidence-based methodologies, saying that "all the activities of the networked patients are already challenging all the elements used until now to anchor evidence and promulgate expertise, the basis for evidence-based policy."
We are in fact in a particularly sensitive period, where the push by a growing number of patients to participate in and share the results of clinical research is in direct opposition with some aspects of Comparative Effectiveness Research (CER). And both camps are moving forward as fast as possible without paying much attention to the signals sent by the others. Dealing primarily with oncology, this tension is of particular interest since it collectively impacts most of our constituents. And I am afraid that many cancer patients will suffer from zealous proponents of CER who may not understand that it requires large data sets, the opposite of what be achieved in the burgeoning world of applied genomics in oncology, where the target populations for a specific kinase inhibitor will be necessarily small at the beginning. Hopefully we'll end up having stasis between these 2 groups and policy-making will remain driven by a mix of evidence, ethics and public opinion.
In my own blog, I posted an assessment of the JOPM's recent systematic review of the literature on self-diagnosis, noting its relevance to the challenge of participatory medicine: "to participate, you have to be able to make informed decisions – you have to be informed, and you have to be capable of understanding the information that's accessible to you. The real source of empowerment may be, not just in the education and participation of the patient, but in the mutually empowering relationship of physician and patient." [Link]
In discussing participatory medicine, we often focus on the the issues and empowerment of the patient, but the caregiver's role is especially vital. Cat Calhoun posts about her experience as a caregiver, and her relationship with her son's physician, in "A Rhythm of Care."
My frustration with Billy's health condition is not a secret. I complain. I demand. I get tired of docs telling me "you know more than me."

But most of the time, it's okay. Except when I am scared. When I know that no one knows why what happens happens or what exactly might "fix" it – or just how to manage the latest trouble – just with some tiny degree of confidence – I totally panic. And then come 'round.
Finally, we have a post from Eve Harris about "Patient Advocacy in the Family." She discusses specific issues she and her family have been dealing with related to her dad's recovery from a recent revision to a 13-year-old hip replacement. She catalogues a suite of wrong decisions and the resulting issues, quoting Carrie Fisher: "the situation is getting worse faster than I can lower my expectations." You might think that to have nine or more things go wrong is unusual, but anyone who's dealt with hospitals and healthcare systems will be nodding recognition as they read this piece. Eve's conclusion: "Patients must advocate for their own wellbeing and caregivers play a vital role." She notes the importance of organized advocacy groups like our Society of Participatory Medicine. [Link]
10/13/2010: We're adding these contributions just received from BetterHealth:
Dr. Steve Simmons writes about "Patients as Partners," quoting Sir William Osler, who said "The great physician would treat the patient with the disease while the good physician would treat the disease." When he follows this advice, Simmons says, he has "to think of my patient as an intellectual partner." He also mentions Dr. Jerome Groopman, who, in How Doctors Think, suggested that patients should become informed and take an active role in their relationships with physicicans. [Link]
Dr. Allen Dappen focuses on "The Reality of Participatory Primary Care," noting that "self-diagnosis and treatment are natural as breathing and impossible to extinguish as thought itself," and the there's an inherent tention between a patient's self-determination and the top-down distribution of powerin the healthcare system. He notes that patients are especially confident about their self-diagnosis in a primary care context, but "need the insight, know-how and experience of our practitioners to come to the best medical diagnosis and course of action for them and then to help them implement their treatment plan." Here there should be an alliance between the empowered patient and the knowledgeable and supportive physician. [Link]
We want to thank all the great contributors to this set of Grand Rounds. e-Patient Dave and I have had a great experience putting this set together, and we really appreciate the opportunity this "blog carnival" provides, not just to shine a light on great writing in medical blogs, but to stimulate some of that writing, as well.